Wednesday — 06.10.2010
lokal Essen ~ eat local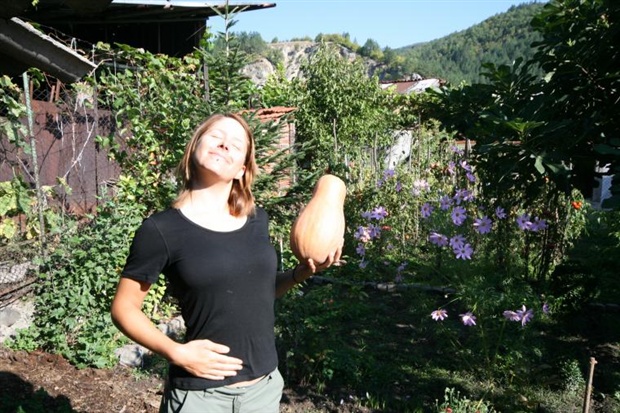 Seit wir durch Osteuropa und weiter reisen, bewundern wir immer wieder die reichhaltigen Gemüsegaerten der Einheimischen. Was nicht frisch gegessen wird, wird für den Winter eingemacht. So haben sie das ganze Jahr durch feinste Beilagen aus dem eigenen Garten und die restlichen Zutaten werden meist mit lokalen Spezialitaeten vom Markt, Baecker oder Metzger ergaenzt. Die Lebensmittel werden also nicht über tausende Kilometer transportiert.

Bei uns in Mitteleuropa hat natürlich nicht jeder die Möglichkeit, einen Garten zu pflegen. Doch beim Einkaufen kann man darauf achten, dass die Produkte in der Region oder den angrenzenden Laendern produziert wurden. Denn der Transport mit dem LKW, Schiff oder Flugzeug produzert viel CO2. Und in den Herkunftslaendern herrschen oft miserable soziale Bedingungen in der Produktion und es werden zu viele Herbi- und Pestizıde eingesetzt. Zudem wird für die Export-Nahrungsmittelproduktion in südlichen Laendern oft sehr viel Wasser für die Bewaesserung benötigt. Wasser, das die Bevölkerung und die Natur eigentlich dringend braeuchte.


~


Since we travel through Eastern Europe and on, we always admire the rich vegetable gardens of the locals. What is not eaten freshly, will be canned for the winter. Like this they can serve the finest side dishes from the garden all year round and the rest of the ingredients are usually supplemented with local specialties from the market, baker or butcher. The food is not transported over thousands of kilometers.

Of course, here in Central Europe not everyone has the opportunity to cultivate a garden. But when you do shopping, you can ensure that the products were produced in the region or neighboring countries. For the transport by truck, ship or plane a lot of CO2 is produced. And in countries of origin often miserable social conditions prevail in the production and often way to many herbicides and pesticides are used. In addition, for the export of food production in southern states often requires a lot of water for irrigation. Water that the people and nature actually need urgently.