Sunday — 17.04.2011
India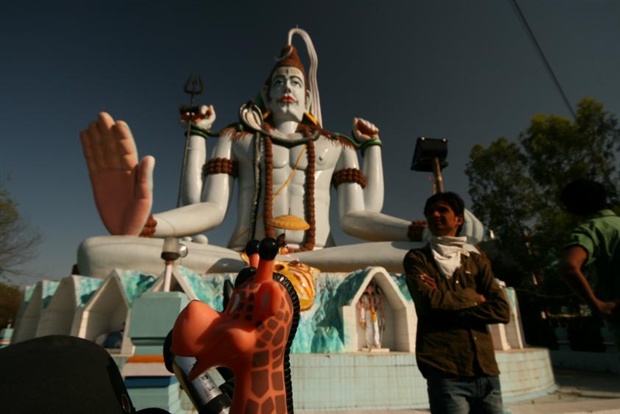 ~ for english version see below ~

Olé, wir sind in Indien angekommen. Und auf den ersten hundert Kilometer fühlen wir uns durch den Verkehr weder lebensbedrohlich angegriffen, noch vergiftet. Die Hitze ist dank dem Fahrtwind ertragbar. Die Inder sind auch weniger aufdringlich als uns vorhergesagt wurde. An Pilgerorten geniessen wir spirituelle Tempelstimmung und auf dem Weg dahin grüssen uns Affen und farbige Vögel vom Strassenrand. Auch das Essen ist eine wahre Gaumenfreude. Bis auf den salzigen Lassi, da hat uns die Migros wohl zu viel versprochen.
Doch je weiter wir in das Land vordringen, umso haarsträubender werden die Überholmanöver der anderen Verkehrsteilnehmer. Und ein ohrenbetäubender Krach wird permanent veranstaltet, bald radeln wir nur noch mit Ohrenstöpseln. Die Freude am wiedergefundenen Bier, wird wegen einer nötigen Antibiotika-Kur auch gleich wieder zunichte gemacht.
Indien hat uns eingesogen, einmal durchgekaut und uns nach nur 10 Tagen an der nepalesischen Grenze wieder ausgespuckt. Die Erfahrung war intensiv. Aber nach unserer Tour durch Nepal möchten wir auf jeden Fall noch einmal im pulsierenden Leben des indieschen Subkontinents baden gehen.


~


Olé, we made it to India! On the first one hundred kilometers we don't have a life-threatening feeling nor are we poisoned by the pollution. The Indian are less obtrusive than we were told. And the heat is bearable thanks to the airstream. At pilgrim places we enjoy the spiritual atmosphere and on the way donkeys and colourful birds greet us from the roadside. Also the food is a mouthwatering culinary delight. Expect to the salty Lassi, Migros (a swiss supermarket-chain) might have promised us too much.
But the further we advance into the country the more hair-raising the overtaking manoeuvre get. And there is a deafening noise all the time, so that we start using earplugs when cycling. The joy of the beer (after a long, long time...) is ruined due to a needed antibiotics.
India has taken us, once chewed and spitted us again after 10 days at Nepali border. The experience was intense. But after our tour through Nepal we definitely want to take another bath in the pulsing life of the indian sub-continent.
Michi: bi 50° Grad bruchsch ja wohl mee als eis Bier ;-)
Barbara: your experience is amazing. ... congratulation for the goal :) Enjoying India as much as you can!!