Monday — 20.06.2011
Lucy & Johnny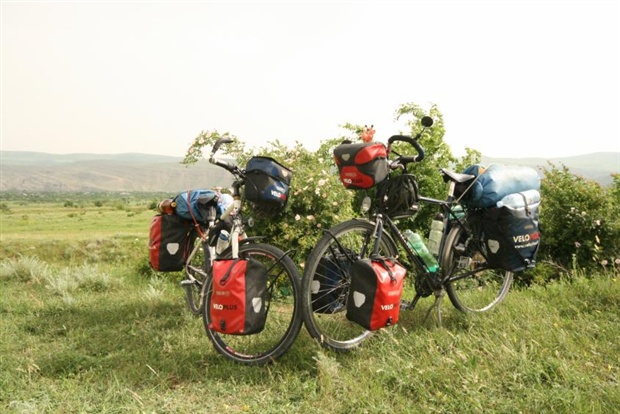 Lucy & Johnny
~ for english version see below ~

Johnny mit seinen bald 15 Jahren lässt sich sein Alter kaum anmerken. Er fährt immer noch mit den ersten Felgen & Speichen, auch wenn ein paar Achtis ausgemerzt werden mussten. Und auf der ganzen Reise liess er nichts durch den Continental Reifen, sodass noch kein Schlauch geflickt werden musste. Er leistet super Antrieb mıt herkömmlicher Kette, nur das Innenlager war einmal gebrochen. Die Felgenbremsen halten erstaunlich lange, vielleicht auch weil er nicht so gerne bremst ;) Zwar sind bereits drei Ständer gebrochen, aber ist ja nicht Johnny's Problem wenn man so viel auf ihn lädt. Mit dem Brooks-Sattel ist er bequem wie ein Sofa. Roman ist Stolz mit ihm unterwegs zu sein.

Die junge Lucy feierte gerade eben ihren 1-jährigen Geburtstag. Mit ihrem Carbon-Riemen bekommt Nadja nicht nur keine dreckigen Hände, sie musste ihn auch noch nie wechseln. Lucy zieht damit alle Blicke auf sich. Viele Maenner staunen nur... Mercedes? Das Nabenlicht hat noch immer funktioniert, stellt bei Dunkelheit automatisch an und hat mit der Lichtstärke sogar bereits Motorräder (ausserhalb von Europa) übertroffen. Bei Bach- und Wadidurchquerungen hat sie mit ihren breiten Reifen dıe Nase vorn, ist ein kleines Drecksäuli (keine Eitle, hat bereits 3x den Spiegel verloren) und liest gerne Kaugummis von der Strasse auf. Nadja und Lucy sind Freundinnen fuers Leben.

~


Johnny doesn't look like being already 15 years old at all. He still drives with his first rims and spokes, also if some "figures of eight" had to be repaired. With his Continental tyres he didn't have any puncture on our journey. The usual chain offers full speed only the inside bearing was once broken. The v-brakes endure an astonishingly long time, maybe because he doesn't like to break ;) Three kick stands are broken already, but it is not Johnnys' problem if one loads too much weight on him. His Brooks saddle is comfy like a sofa. Roman rides him proudly.

The youngster Lucy just celebrated her first anniversary. Thanks to her carbon-belt Nadja doesn't get dirty hands and she didn't have to change it a single time. Lucy attracts looks of everyone with it. Many men are astonished... Mercedes? The hub light always worked fine and has been even brighter than the ones of motrocycles (outside of Europe). When crossing streams and wadis she is in front with her broad tyres. She is a little mucky pup (is not vain at all, lost already three mirrors) and loves to collect chewing gums from the street. Nadja and Lucy are friends forever.
Comments
Rici: oohhhhhhhhhhhh...wie süess :-)
Michi: so lang ihr die nonig is zält mitnähmed gats ja :-)